15 years of experience in the battery industry
This is an era we must face; the earth is getting warmer, an energy revolution is imperative, and various batteries, including NiMH batteries, are an integral part of this action, at least for the foreseeable future.
Nickel-metal-hydride (NiMH) batteries power most hybrid car batteries. These batteries have lower failure rates than other types of batteries. Hybrid vehicle batteries are made up of a battery pack that contains multiple cells. The battery packs in hybrid vehicles are typically more efficient than the batteries used in standard cars. They recover energy from braking more efficiently. This energy is stored in the battery pack and used when the vehicle needs to accelerate. Hybrid vehicles are also environmentally friendly. Hybrid cars also have smaller engines and use batteries to power auxiliary loads. In addition, these cars may require less routine maintenance. Hybrids also have lower fuel consumption compared to standard vehicles. This means cleaner air and a cleaner environment.
OKacc is willing to contribute to this energy revolution; we insist on doing an excellent job with each battery and being responsible for each of our partners; we are proud to say that so far, none of our batteries have exploded and caught fire in a serious quality accident. Choose okacc is to choose quality, and the okacc battery light up the future!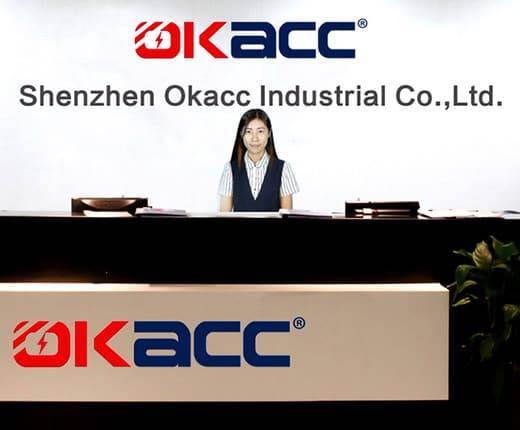 Okacc Hybrid Batteries business unit is an independent division belonging to Shenzhen Okacc Industrial Co., Ltd., located in Shenzhen City, Guangdong Province, China. we are committed to the development and application of new energy storage systems and new energy vehicle power systems. Our main products include individual battery cells, complete Ni-MH hybrid battery packs, LiFePO4 battery packs, etc. We also provide the service of customized battery products, including battery design, selecting cells, BMS, chargers, and a full range of one-stop battery solutions.
We have multiple lean production lines and cutting-edge safety test systems for batteries. We have made significant breakthroughs in the safety and life of NiMH batteries and own multiple patents in NiMH battery technologies. OKACC is devoted to delivering safe hybrid car battery products, advanced technology, and excellent service to benefit our customers. As one of the leading companies in the hybrid battery industry, OKACC adopts strict design specifications for safety during the whole manufacturing process. Every batch of products is fully tested to ensure each battery's safety and high quality. The safety of products from OKACC is commercially insured to resolve any after-sale issues.
Shenzhen Okacc Industrial Co., Ltd. has built a comprehensive and effective quality management system, ISO 9001: 2015 certified. We employ high standards in all the procedures of our production management, from material procurement and testing to manufacturing control to final product shipment, ensuring our products' stable quality and reliability. OKACC gained a high reputation for its credible production capacity and technical support. Our battery products have a high capacity, low internal resistance, good uniformity, long life span, and stable discharge, which are widely used in many areas, such as communication base stations, geologic surveys, digital devices, appliances, military, medical apparatuses, and construction and installation. Our products are certified by CE, FCC, ROSH, IC, PSE, C-TICK, MSDS, and UN38.3. We have provided professional battery solutions and OEM services for clients in Europe, the USA, Japan, South Korea, Taiwan, Middle-east and Latin America.
Pursuing environmental friendliness, high performance, and product safety, Shenzhen Okacc Industrial Co., Ltd adheres to the people-oriented business philosophy and honest, innovative, solidary, and dedicated corporate culture. We offer the quickest response to our customers and provide the products with the best quality to meet customers' needs. We welcome friends from all over the world to discuss possible business opportunities.
Okacc wishes to work with you based on:
Reliable quality– Qualified batteries have strict Automated Production Line and Precise equipment. We are continually devoting it to experienced engineers.
Positive service— We treasure every customer of ours and visitors from the website. We assure to give a response within 24 hours.
Taking responsibility– Okacc members proactively take responsibility when working with our customers; we strive to offer the best solution to each customer.
Sharing happily– We are a happy team and enjoy sharing with our members and customers; we believe that sharing brings us improvement and makes our service more efficient.
Okacc warmly welcomes your visit and truly hopes to make it better with your valued suggestion and advice.